Social networks have changed our way of relating and seeing the world. Today everyone has profiles on Facebook or Instagram, spending several hours a day on these social networks. These platforms host a lot of information about each of the users. So it is very interesting to know the different types of campaigns in Facebook Ads, to impact your target audience.
Facebook Ads is the advertising platform par excellence when we talk about social media marketing, and it does not only include Instagram and Facebook users, but it goes further. In addition, we find the existence of several types of campaigns in Facebook Ads. Which will allow us to impact our target audience in different ways.
What is Facebook Ads?
Facebook Ads is an online advertising platform that offers ads that are presented interspersed with other social content on the network. These types of ads can be found both in the feed itself and in the right column.
It is true that Facebook already had an online advertising platform since 2004 that was known as Flyers. However, it has been in the last 4 years that this has experienced strong growth.
The growth of this platform function is due to two reasons; the first of them due to the maturity and efficiency that the tool has reached. Allowing to obtain adequate returns on investment. The second thing is that Facebook intentionally cut the organic reach on fan pages. Which are those that are initially used for commercial purposes. To better understand the latter, the scope cut was that. If a page had 15,000 fans, only 2,000 would see a publication.
It is becoming more and more important to invest in this platform. Since in an organic way it is very difficult to reach a high number of users. Knowing the types of campaigns in Facebook Ads will be a fundamental part of the success of our positioning in social networks.
Why invest in Facebook Ads?
The idea is not to know the types of campaigns in Facebook Ads and invest just because, it goes further. Many advertisers must analyze which platforms are more interesting when it comes to promoting their ads. It is important to know the advantages that each one can offer. So here are the benefits of investing in Facebook Ads.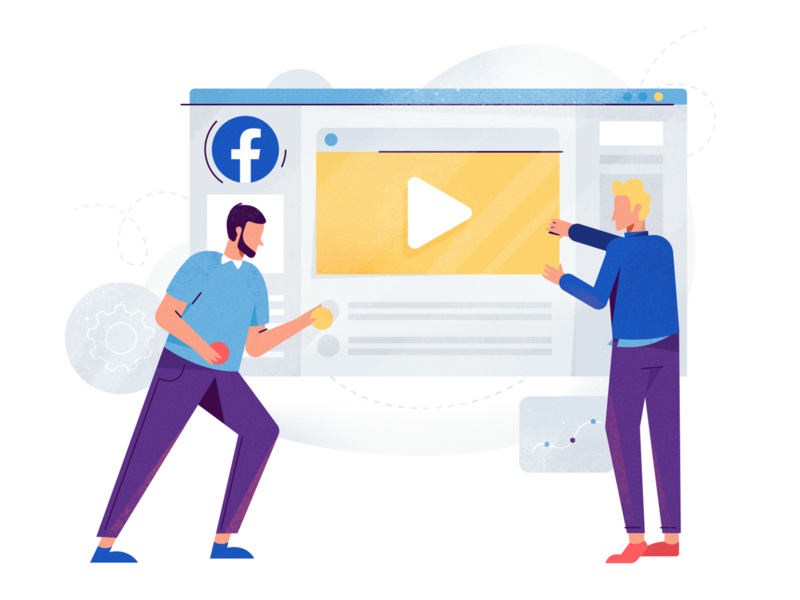 The minimum amount for which you can create Facebook ads is  $1 per day, and with that amount you can reach a high volume of people who are interested in the products or services you offer. There are several types of bids being able to choose the one that best suits. According to the objectives that have been established, for example:
Cost per thousand impressions (CPM): this allows to increase exposure and brand recognition, being able to reach more people.
Cost per click (CPC): it is oriented to take users to the web page or to the Facebook page.
Optimized cost per thousand (oCPM): This type of bidding is based on showing ads to users that Facebook thinks are really interested in your brand.
Cost per action (CPA): The goal of this type of bid is to get users to take an action when they see the ad, such as liking or commenting.
Segmentation possibilities: Facebook offers a very good segmentation capacity, being able to segment demographically or by personal interests. In this way, the audience can be adjusted very precisely, making the most of the advertising investments. Without a doubt, it is the best tool to segment by likes, much better than Google Ads, for example.
Large Facebook audience: this social network has more than 1,000 million active users every day. So it is easy to create a market niche since there will be many people interested in the products or services that are offered. This means that, using the correct and sophisticated tools, the ads are seen by the audience that has been selected.
Analysis of investment, performance and ROI: another advantage of Facebook Ads is that when making an investment it is recorded. So that you can assess the performance of campaigns, ads or types of ads. All this information allows you to know which ads work better or which ones are more profitable.
Outperform competitors: not all advertisers are aware of the possibilities that Facebook Ads offers. So you can gain an advantage over competitors who do not use it and even if you create a well-designed strategy. All this allows to capture the attention of the users thus increasing the recognition of the brand.
All Types of Campaigns in Facebook Ads
We have already made you a mini summary of the tool and its advantages. Now it is time to talk about the types of campaigns in Facebook Ads.
Brand awareness: The objective of this campaign is to show the ads to users interested in the brand or the topic of the ad. It is very useful to use this type of campaign to develop a personal brand, since you will impact those who comply with your segmentation, and who also tend to like pages.
Scope: The purpose of this campaign is to show the ads to the largest possible number of users, all of these being potential for the brand. Try to spread the message you want to convey to a great extent. It is about killing flies with cannon shots, but it is quite useful when you are looking for a notable increase in visibility.
Traffic: This type of campaign tries to get people who see the ad to visit the website or go to the Facebook page and thus increase the number of followers. One of the most used and profitable, especially if the campaign has a specific landing page.
Interaction: The purpose of these is to create a relationship between the advertiser and the client. Try to seek participation through comments or through the share buttons. These types of campaigns are used when you want to promote an event, although they also serve to increase the number of followers.
App installation: The objective is for users to be directed to the application store to download the corresponding app. For this, it is necessary that the application being promoted is registered with Facebook for Developers, in addition to the fact that it is necessary to link the advertising account with said application.
Video views: With this campaign you can promote the products or the brand through a video. This type of advertising allows you to optimize the campaign according to the views.
Lead Generation: Custom forms can be created to collect information from leads and can be used to optimize campaigns. It is one of the most recent types of campaigns in Facebook Ads, and it is quite efficient. You can make the form as long as you want, ask everything you want, in the end, the more information you ask for, the higher quality that lead will be.
Messages: Here the important thing is to have direct contact with the customer, and create a conversation through "Messenger". This is seen as a call to action or as a means of getting information. It is similar to the previous one, but a little more basic, since you will not get any information from the user.
Conversions: The purpose of this is to attract potential customers to a local business or website. A sales funnel is established, making users interested in the product or service and providing data.
Catalog sales: They promote an item that the advertiser has in their store, thus displaying various images of the product. It is recommended to use this type of campaign for stores that sell physical products and try to look for direct sales.
Traffic in the business: It is more aimed at physical stores or local businesses, thus creating advertisements that segment users by location and thus establishing a reach radius. To do this, you must establish the physical address of the business and the telephone number. In this way, the attention of people who live nearby is sought, choosing that business before another.
Facebook Ads
Facebook Ads is one of the most powerful tools within the well-known social ads. It is a platform that offers a great capacity for segmentation and with which with a small amount of money you can achieve great results.
Advertisers have a wide field of possibilities when it comes to promoting their products, services or brand image through it, since they can orient themselves and invest in the type of campaign that offers them the most benefits or that fits with the objectives of the brand.
The objective of this article on the types of campaigns in Facebook Ads was to outline a mini summary of the wide variety of options that this tool throws at us when making an advertisement.
We must bear in mind that, although the segmentation is the same, the algorithm will make a distinction of the users. And that is that if you want to get more likes in a publication, it will be shown to those users who meet your characteristics and who tend to interact.
We trust that this article on the types of campaigns in Facebook Ads has been useful to you and has allowed you to know the purpose of another campaign for your project.
As always, we would like to know your experience in the development of campaigns on social networks and to know what types of campaigns in Facebook Ads are the ones you use the most, we read you!