The new Samsung 980 NVMe SSD is planted as an alternative to consider for fast storage, thanks to the manufacturer's new HMB technology.
Last year the new Samsung 980 Pro NMVe was launched, one of the fastest SSDs on the market capable of reducing the loading time in applications and games. Therefore, it is a unit aimed at gamers and enthusiasts who want maximum speed.
But it is also an SSD that only a few can afford. With a starting price of almost 100 Euros for the 250 GB version, the capacity / price ratio is not very good; so normally, it is recommended only as a secondary unit, accompanying a cheaper SSD or HDD.
But what if we could get a slice of that performance at a much lower price? That is what Samsung has proposed today with the new 980 NVMe, a model that eliminates something more of the "Pro" from its name.
New Samsung 980 NVMe
Normally, when we deal with "cheap" or "entry" models, the story is always the same: they are components that are slower or do not meet the standards of the more expensive models. With the new 980, it is different.
This is Samsung's first end-consumer SSD without onboard DRAM, and it's thanks to not having to include those extra memory chips that it has been able to lower the price of the set.
In models like the 980 Pro, the NAND memory is used to store data, and it also includes DRAM memory, which is faster and is where the table of contents is stored; this way, when the system needs to access data, it first quickly checks where it is in the table stored in DRAM memory. That translates to better performance, as you don't need to query the NAND for that process.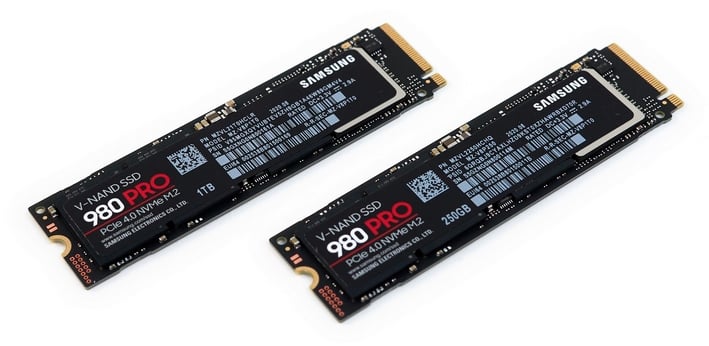 How is it so fast?
The Samsung 980 NVMe has no DRAM memory, but the Korean manufacturer promises that performance is not affected as much thanks to a new innovation: HMB, "Host Memory Buffer". This technology uses the RAM memory that we have installed in the computer to store the necessary data; this way, it is not necessary for the SSD itself to have onboard memory.
Specifically, using this SSD will "take away" 64 MB of RAM from our computer, a ridiculous amount for current computers that already usually mount 16 GB. In return, Samsung claims that this SSD achieves transfer speeds six times higher than those of an SSD with a SATA connection. In addition, they use the PCIe 3.0 interface, instead of the more modern PCIe 4.0, which is available on many more motherboard models.
Specifically, this range of SSDs reaches 3,500 MB / s of sequential reading, and 3,000 MB / s of sequential writing. It's not the best we've seen, and the 980 Pro itself almost doubles those rates, but the bottom line is that these models are expected to be much cheaper.
The Samsung 980 NVMe of 250 GB will be available for 66.99 Euros, the 500 GB version, for 89.99 euros, and the 1 terabyte, for 159.99 Euros, a big difference compared to the Pro version. And that can be much more tempting, especially if we don't have a PCIe 4.0 motherboard.